The Food Pantry is available to the public the second
and fourth Thursday of every month from 1:00-2:30 pm.
A photo I.D. with current address is required.
On the second Sunday of each month we have a
"Noisy Offering." The congregation places loose change
in cans in the offering trays. This money is used to support
ELCA World Hunger, a program that addresses hunger
and poverty around the world through relief, development
and education. The "Noisy Offering" also helps to support
the First Lutheran Food Pantry.
Learn about Lutheran World Relief.
Courtesy Drivers are available to those who need a ride
to worship. If you are in need of a ride to church for
Sunday worship, please contact the Church Office
during weekday office hours at 309-343-3176.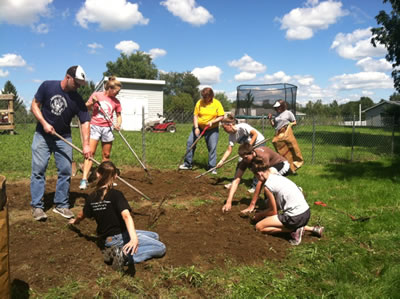 Habitat for Humanity of Knox County is located at
156 N. Seminary St., Galesburg, IL (in the house part
of our building). We provide financial and volunteer
support to our local Habitat-for-Humanity Group
supporting their mission to secure decent affordable
shelter for families.
If interested in volunteering locally contact Habitat at
(309)343-2242.
Members of First Lutheran are exploring the possibility

of another international or regional build in summer

of 2016. Contact Pastor Pamela Marolla if you are

interested. Please call (309)343-3176.
Learn more about Habitat-for-Humanity of Knox County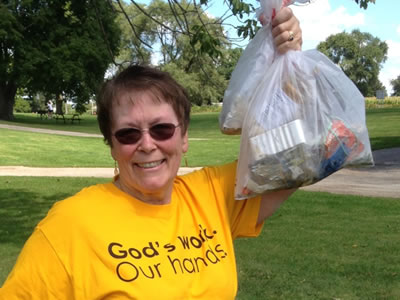 Adopt-A-Highway
Our congregation, young and old, volunteer four to
five times a year to clean-up the terraces on
Seminary Street between Main to Losey.
All are welcome and refreshments are provided afterwards.
Learn more about how you can be a part of Adopt-a-Highway.
Helping Neighbors (C.C.H.N.)

Monthly, we donate money to support the Christian
Community for Neighbors (C.C.H.N.) located at
2262 Grand Ave., Galesburg, IL. This money goes towards
those who need help paying their utilities and other
resources to help them get back on their feet.
Call C.C.H.N. at (309)342-1152 for more information.
364 E WATER STREET, GALESBURG IL 61401
(309) 343 3176
INFO@GALESBURGFIRSTLUTHERAN.ORG